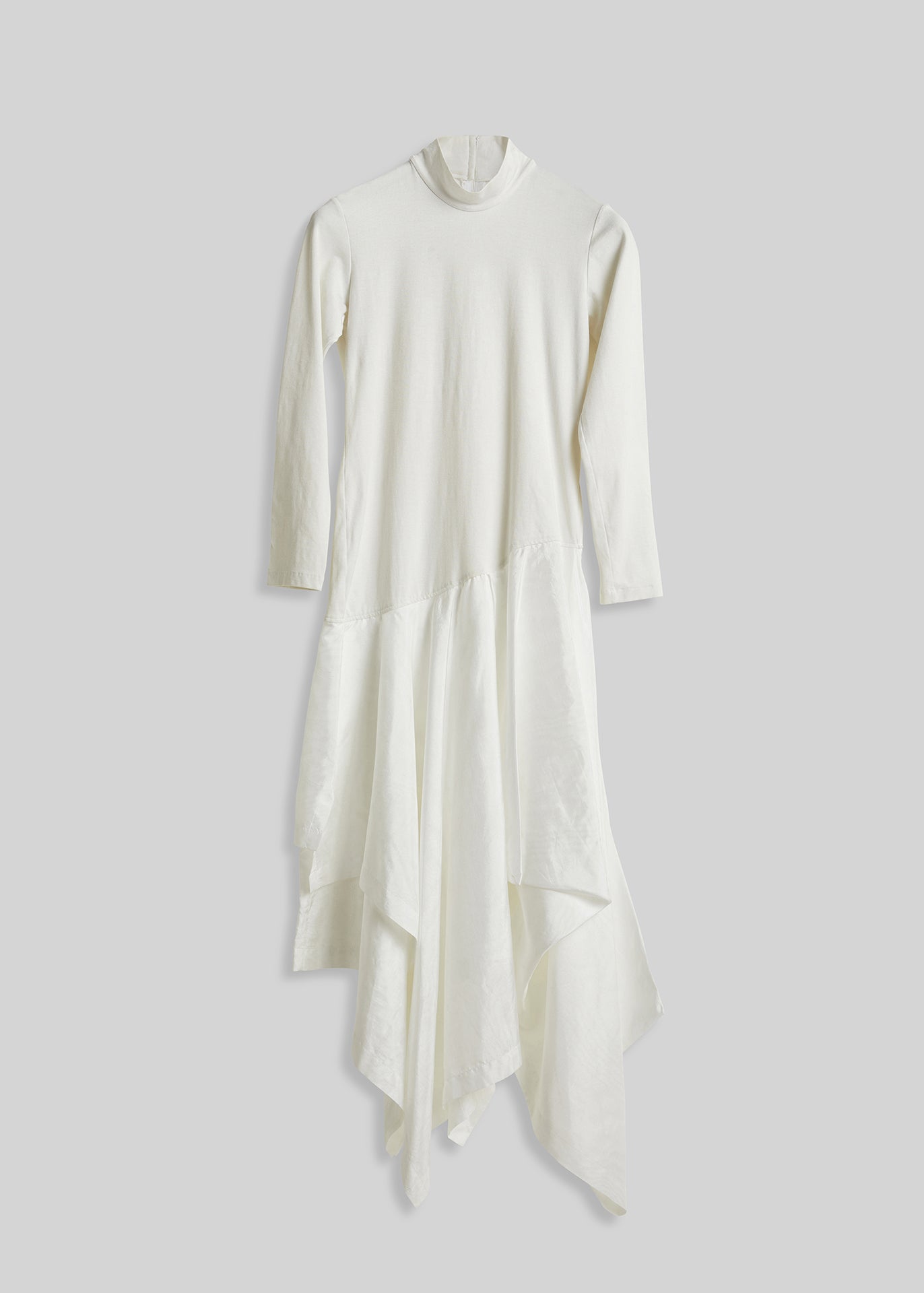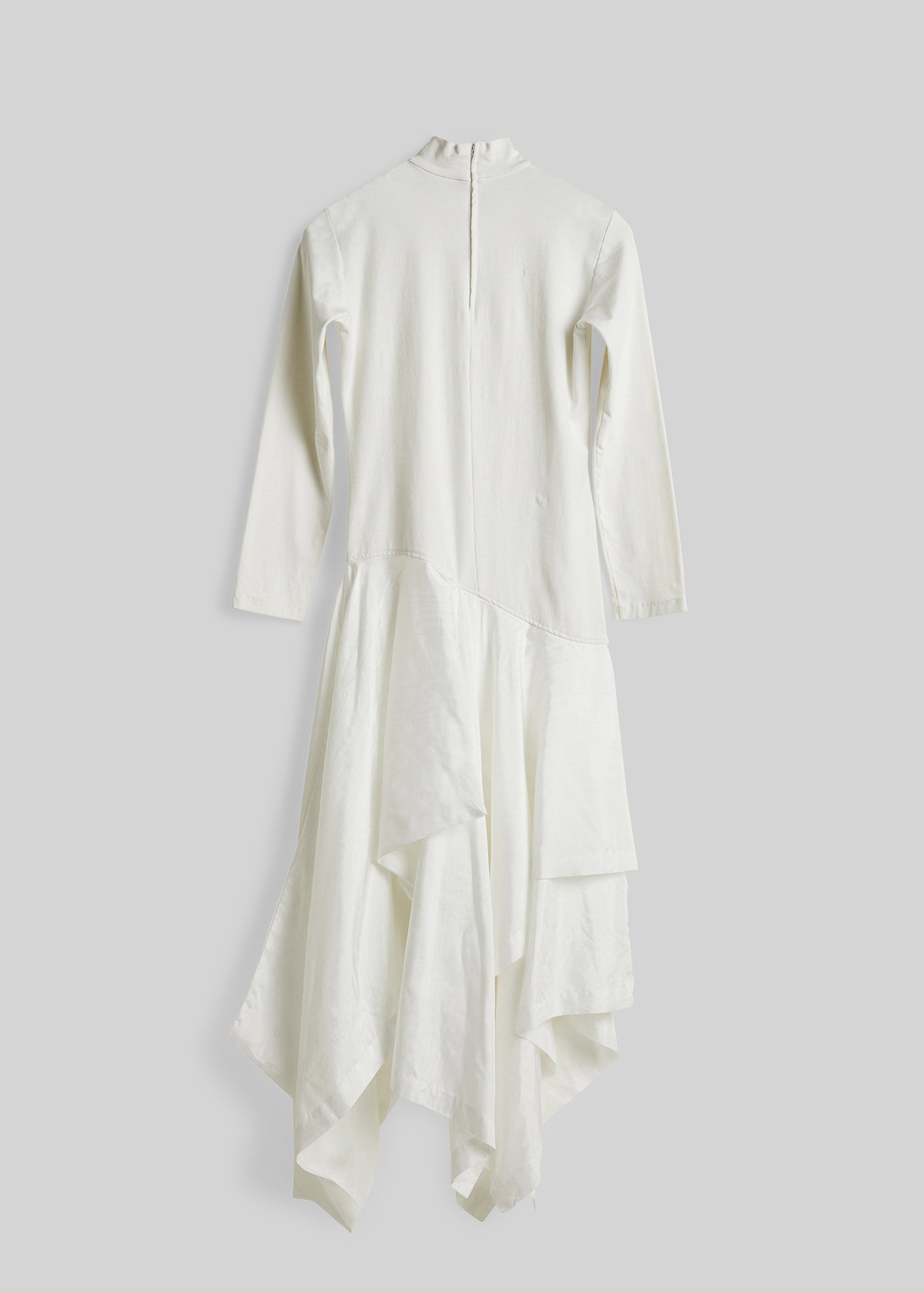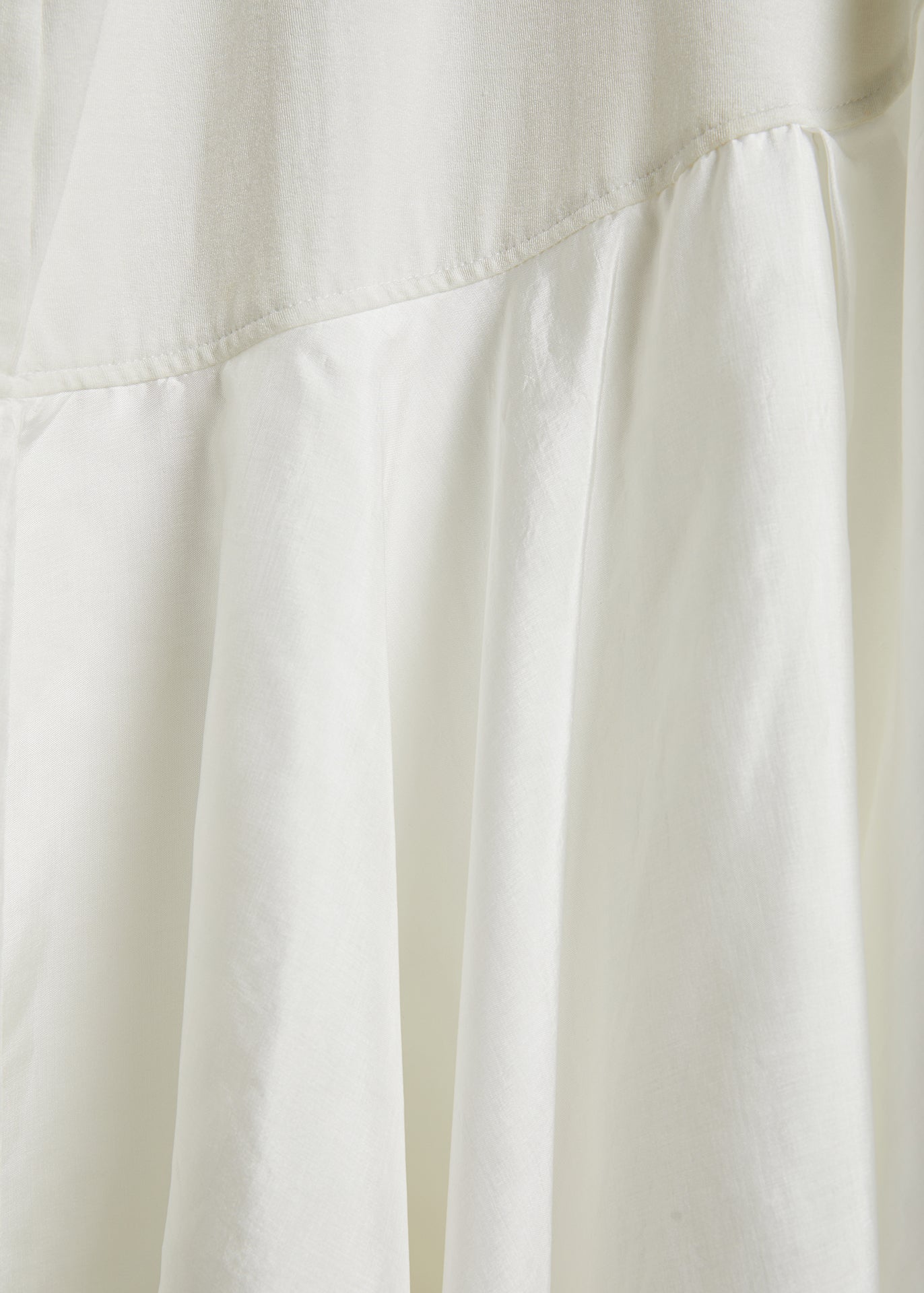 Comme Des Garçons Spring '86 runway dress - M
Comme des Garçons is the iconic Japanese fashion house founded by Rei Kawakubo, renowned for its avant-garde and unconventional designs. 'Kawakubo dramatically changed what we consider to be fashion. Since her Paris debut in 1981, Kawakubo has challenged the status quo in both mens and womenswear with her radical use of references, proportion, and technique, in increasingly abstract shows.' - Excerpt from Dazed
DESCRIPTION 
This incredibly special
Comme des Garçons dress is a never-been-worn vintage piece from the Spring 1986 runway, made in Japan. 
SIZE AND FIT
M - fit is realistically closest to an AU8
Measurements: Outer sleeve 56cm. Inner sleeve 47cm. Raised neck 5cm. Length from front top of neck to longest part of skirt hem 142cm. 
COLOUR 
White
FABRICATION
50% Polyester. 30% Nylon. 18% Cotton. 2% Polyurethane
Body of dress is a stretch fabric. The skirt fabrication has an airy, light silky feel
CARE
Dry clean only
CONDITION
Excellent vintage condition. Never worn. Two small 5mm areas on front and back of fabric where the fibres have thinned. 
STYLING
Ways to wear:
- A unique, ethereal wedding dress option
- Channel a menswear vibe and style with an oversized blazer, white socks and chunky loafers
- Style as an all-in-white look with white barely-there sandals (or white knee boots) and a white bag
- For a special occasion, pair with black strappy heels and a chain-mail bag to dance the night away
STORY
Pre-loved by a fashion stylist. 'I went to the Comme Spring '86 runway show, six months pregnant at the time. I saw this dress on the runway and I absolutely had to have it for my wedding the next year. I saw the press team after the show as I needed to order it. The delivery time was a little later than my wedding date, so they had to run it past by Rei Kawakubo herself to make sure it could be delivered on time. When it arrived I had post baby belly, so very sadly I didn't end up wearing it, it's never been worn - but it is fabulous and on the runway it was amazing. I've tried to find it online and I've haven't been able to find it anywhere else since.'